To celebrate Women's History Month, we are highlighting some of the amazing women that make things happen here at Precision Images. Printing has historically been a male dominated field, so it might be a surprise to learn the roles women hold here at Precision Images.
Our first spotlight feature celebrates Erica Bitterman-Ryon, she is our Senior Sales Executive, and has worked at PI since she was a kid. Her father Don was one of the co-founders of Precision Images, so it's in her blood and in her soul. She may in fact be the greatest sales person who ever lived, as there is no task too tough, no demand too crazy, Erica WILL make it happen, and she remains contagiously cheerful through it all!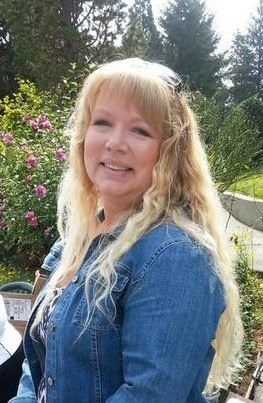 Please explain what you do at Precision Images.
I am the person that helps you find the service for your project. Here to help when you're down to the wire and need fast and beautiful results. Your Trusted Advisor.
How did you come to work here? How long have you worked here?
I was hired back in May of 1995. Don, one of the founders and my father, knew I disliked my current office manager job. He offered me the position of front counter, receptionist, and project manager. But it was supposed to be for 6 months till I found another office manager job. I never left. It will be 24 years this May. I moved into Sales late 1997.
Favorite thing about or memory of working at PI?
My clients, and no, I am not being cheesy. I love the people I get to work with. I don't just have clients, I have a lot of friends and many mentors that have helped me along the way and are always willing to explain things to me. Never once made me feel like I was asking a stupid question. I just wanted to understand more so I could do my job better for them.
Favorite Memory is tough, I have some projects I got to help with in my start that I have never forgotten, like the Washington County Justice complex. First big job I was put in charge of.  D.A. Hilderbrand gave me an aerial picture of the site when completed and 20 years later I still have it hanging on my wall with his wonderful words to me.
There is also my time spent with "CSI" Construction Specification Institute. They have honored me many times with the work I have done in my 20 years with them. Getting the Al Hanson Award which is the top award for a chapter, was huge for me, and this year I was honored to be elected at the NW Region President Elect. They have mentored me and helped me along in my career and I am forever grateful.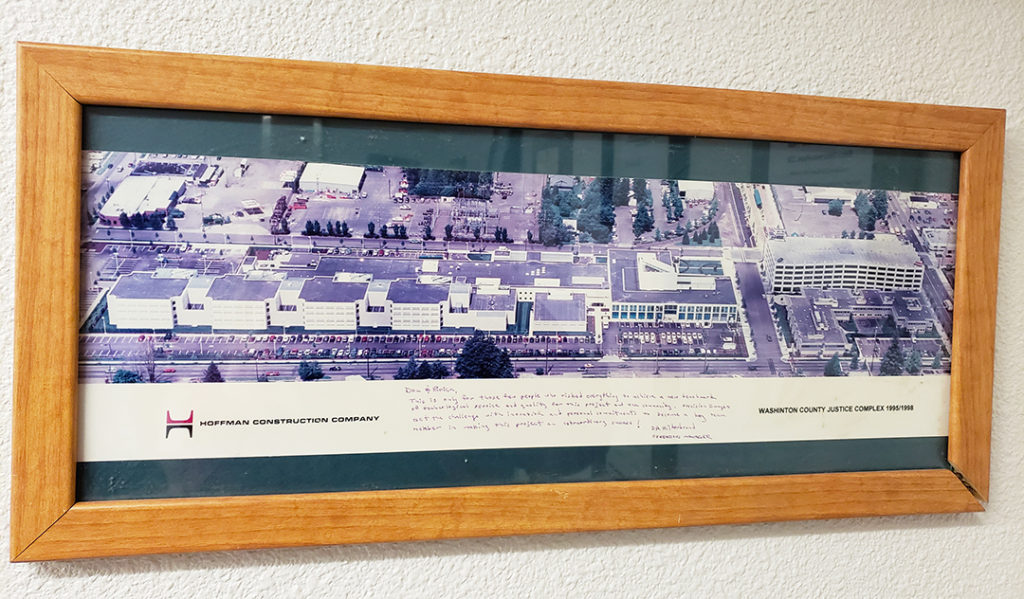 Printing is a male dominated field, have you ever had issues with that? How does it feel to work in the printing industry?
Ya know, no I haven't.  I thought I would, I was nervous about that at first, with a little chip on the shoulder prepared for issues. But that chip went away very fast. I have always been treated with the utmost respect and have never been made to feel like I wasn't welcomed or that it was boys only club. A lot of that though Is my personality, I don't intimidate easily or get my feather ruffled. I am always smiling and happy.  Life is too short to grumpy and walk around with a chip.
The printing industry is like no other, we have changed and evolved so many times over the years and will continue to do so.  Looking for new services and products for our clients.  It isn't just copies. We are not Kinkos. We get to be involved in a little piece of someone's artwork that they are leaving behind for generation as their legacy, it is part of our legacy too.
How has the industry changed over the years?
I never thought the industry would change as it did. Pushing blue prints was far easier, I do miss my purple thumbs and that smell. But now things are faster and more colorful, and technology advancements change us so quickly.  It is staying ahead of it and not getting lost. I never thought I would be doing site walks and doing these colorful graphics on buildings and for trade shows. It was easier 20 years ago, I have a lot more I need to learn and research, but with all that, this is far more exciting and allows me to be more creative than ever before, now I am part of the team discussing what materials are best and the logistics of things. With blue prints you don't get to do that.
How do you feel about the future of printing?
Excited and overwhelmed at the same time.  Excited for the projects I have yet to work on and be involved with. Overwhelmed with keeping up with new materials and processes and learning all I can about them.
Tell us about you, what is your Favorite food? Favorite band or music? Favorite movie? Favorite book?
Fav food that is tough, I love Italian, lobster raviolis.  BUT I spent a week in New Orleans and grew to love the food there: Alligator, Boudin, catfish and Beignets, OH MY!  And so much more.
Favorite band/music is an easy one, everyone knows I am obsessed with Fleetwood Mac and Stevie Nicks.
Favorite movie is tough too, I grew up watching Godzilla movies and the old hammer film monster movies and still love them to this day.  For current movies, I am so not the chick flick movie gal, it would be the Marvel movies and John Wick.
Favorite book, I am an Anne Rice fan of the Vampires, Witches, Mummy and Werewolves.  I also have a signed copy of "Midnight in the Garden of Good and Evil", after reading that book I had to go to Savannah Georgia to see the place for myself!
There you have it, a glimpse into the world of Erica Bitterman-Ryon, our sales tour-de-force and the sunshine of Precision Images. Her cheerful laughter keeps everyone here smiling throughout the day, and her industry knowledge makes her a highly trusted partner for any project.
Stay tuned next week when we highlight another amazing woman here at Precision Images.